The first reading this weekend has a very powerful message. It says that to behave faithfully is within your power. There are many people today who believe that it is useless to even try to behave faithfully because it is beyond our capability. A follower of Jesus Christ can never resort to this way of thinking. We received the power to behave faithfully at Baptism, Eucharist and Confirmation.

Christ has given us all the ammunition we need against the evil one and the power of death. It is not a lost cause. The Christian never gives up on his / her own salvation and that of the world. However we do have a choice and it is ultimately up to us to accept the means that God has given us to overcome evil and mould this world a little more into what God intended it to be from the beginning. All of us have the power to do good, to behave faithfully, let's use it.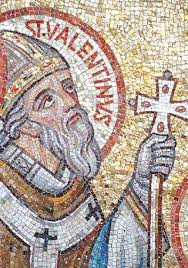 Monday is the feast of St Valentine. Tradition tells us that Valentine was a martyr of the Roman church of the third century. There is a shrine in the Carmelite Church, White Friar street, Dublin which is said to contain his relics and which is very popular with young couples especially on his feast day, the day when cards, flowers, chocolates, etc, etc. are the order of the day – if you are lucky! We can be sure that St Valentine never imagined that almost one thousand seven hundred years after his death that he would be the focus of a mega industry connected with love in one of its forms.
Anyhow happy Valentines Day to whom it concerns
!
Accord Pre Marriage Courses
The following information may be of interest to those who might be planning to get married in the future or if you have family members planning to Marry.
Pre-marriage Courses 2011 ─ 28th January, 18th February, 25th March, 15th April, 13th May, 17th June, 01st July, 16th September, 14th October, 11th November.
To book a place on one of the above Courses telephone 056 7722674 or email
accord@ossory.ie
Marriage is a big enough undertaking that only the most naive would think they don't need some help to prepare for the big day and for the rest of their lives. Book early. When married couples experience challenging times Accord can offer a listening ear also. Contact them at the above telephone number or email address.
Praying for those who have died
Ministers for Sat 19th

/ Sun 20th

Feb.
Ministers of the Eucharist
Kathleen Malone & Michael Egan
Tom Brennan & Peggy Hoyne
Dan Fitzpatrick & Pierce Hogan
Ballycallan: A Brennan & A. Fitzpatrick